Compdigitec ODPMerge - Project Page
Compdigitec ODPMerge is a small utility written in cross-platfrom wxWidgets C++ to merge multiple OpenDocument Presentation (OpenOffice.org Impress) files into one. Since OpenOffice.org's built in slide importer only allows for importing one .odp at a time, this utility allows you to merge unlimited (only limited by the system's processor and memory) amounts of presentations into a single presentation.
---
Get Compdigitec ODPMerge (Current Version - v1.0)
Windows 9x, 2000, XP, Vista and 7
Mac OS X
No binaries are available for Mac OS X at the moment, but you may attempt to compile the source on Mac OS X. Please contribute if you can!
Linux
Source Code
---
Screenshots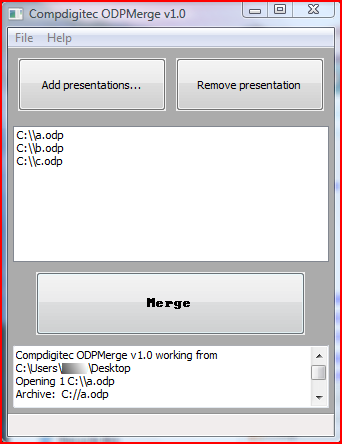 ODPMerge v1.0 on Windows Vista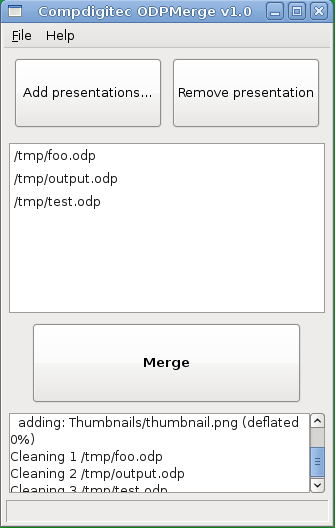 ODPMerge v1.0 on Ubuntu 9.10
© Copyright 2008 - 2014 Compdigitec. All rights reserved. Last updated on May 8, 2010.
The current time is: 12:07:55 Friday, January 28, 2022