« Stopping syntax error, unexpected ';', expecting T_FUNCTION | Home | Very Suspicious Internet Robots »
By admin | July 20, 2008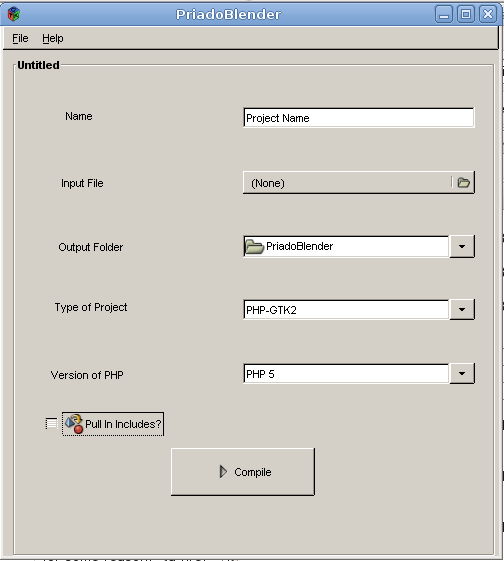 Update (August 24, 2008): Apparently this program does not support Unicode or php-gettext supported programs; a "program name has encountered an error and needs to close" dialog appears.
A good solution for compiling (not true compiling though) PHP-GTK and PHP-GTK2 applications is the PriadoBlender (pb.impressivegames.com). Released under the PHP License (see note 1), and allowing you to even create commercial applications with it, PriadoBlender is an amazing project, although it looks like that the development of PriadoBlender has been stalled.
The good thing is that the v2 beta(?) is still available, and it does a very good job of making your CLI, PHP-GTK and PHP-GTK2 applications into standalone Win32 EXE.
You can download it here: Link to the official download. Here's a mirror in case the official one does not work for some reason: Mirror download of PriadoBlender from Compdigitec
Hope this helped anyone looking on compiling PHP-GTK2 programs into standalone windows executables!
See here: www.priadoblender.com/index.php?layout=main&cslot_1=3
If you found this article helpful or interesting, please help Compdigitec spread the word. Don't forget to subscribe to Compdigitec Labs for more useful and interesting articles!
Topics: PHP, Windows | 4 Comments »
4 Responses to "Compiling PHP-GTK2 Applications into Win32 Executables"
Comments