« Compiling GNU Bash 4.x for Android 2.x | Home | Adding custom profile fields in WordPress (fully automatic) »
By admin | October 9, 2011
Most spam on your WordPress blog is caused by automated robots (spambots) which keep submitting to your comment form to inflate some shady website's rank. Short of completely disabling or turning on blog moderation and wasting your time filtering through the mess, you can now use the new WP No-bot Question plugin developed by Compdigitec for WordPress – simply activate, set your question and answers and block all the spam bots! Best used in conjunction with other spam and server protection plugins such as NoSpamNX and Bad Behaviour. This plugin was inspired by the Anti-Bot Question Mod for phpBB, which is very effective against spambot user registration on phpBB.
See the plugin page on Compdigitec for more details and screenshots/downloads.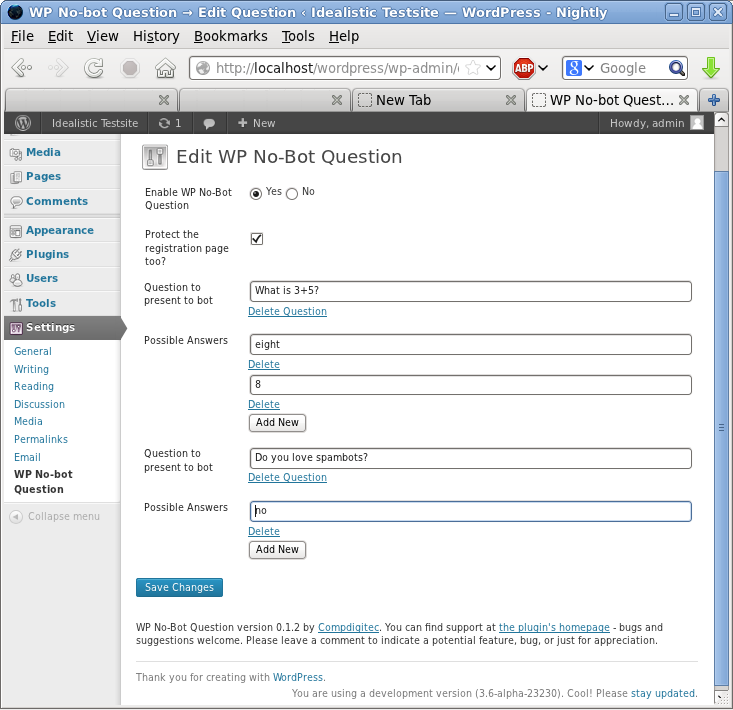 If you found this article helpful or interesting, please help Compdigitec spread the word. Don't forget to subscribe to Compdigitec Labs for more useful and interesting articles!
Topics: PHP | 22 Comments »
22 Responses to "WP No-bot Question plugin for WordPress"
Comments